Post by gracoman on Feb 6, 2016 10:42:53 GMT -5
How do you encourage your patients to stay on the diet?
There is no question it is hard at first. And it is hardest eating out at friends' houses. However, I am always impressed how well my patients do once they experience the relief of chest pain, weight loss, and the improved feeling of well being they have eating a plant-based diet. Then the motivation comes from within. It also helps that within 8-12 weeks of starting the program the fat receptor in the brain down regulates and they lose the craving for fat. And as they start feeling better and better, they know that they are the ones– not their physician or their surgeon–that have control over the disease. It is a powerful feeling!
—Caldwell Esselstyn
The reversal diet is a strict one but the benefits are worth it. Consider the alternative. That said, there are many levels to this diet and where you plant yourself is dependent upon your reason for beginning. Will you start to save your
home
, save the animals, save food production, or save yourself? If you are battling a diet related illness, your specific illness will determine how strict your diet will be.
FESTIVE DAL SOUP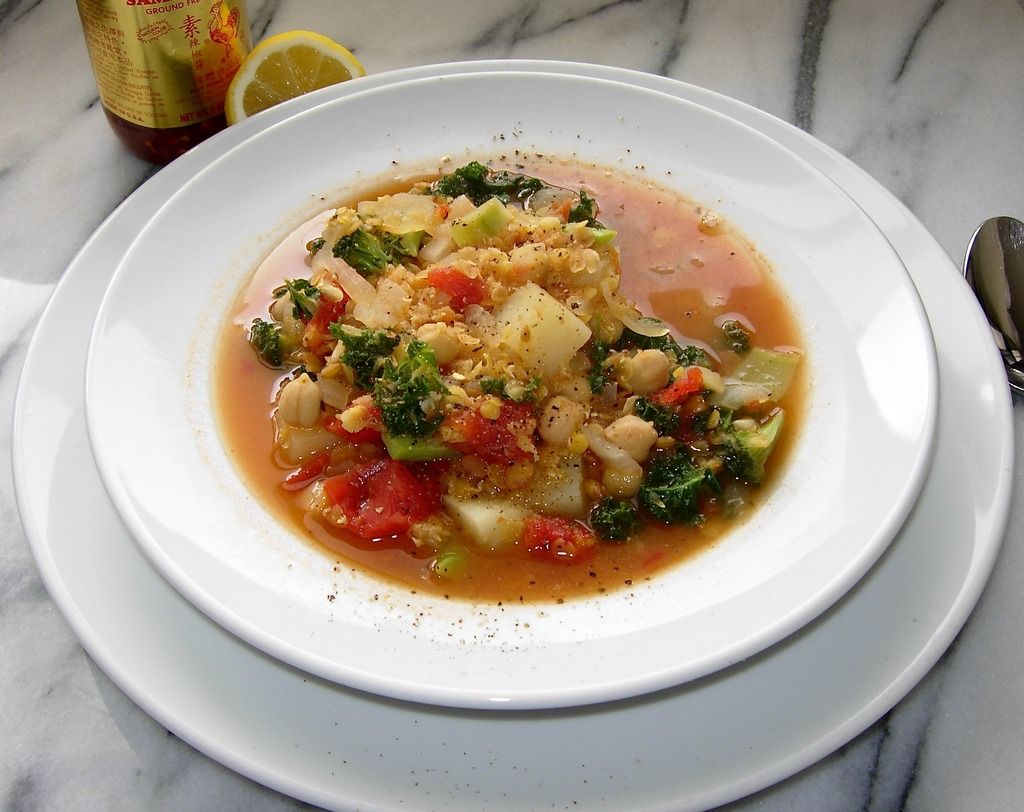 FESTIVE DAL SOUP
Recipe by Mary McDougall
In India and throughout Nepal, Pakistan, Sri Lanka, and Bangladesh, split lentils, peas, and beans are used in a variety of thick soups and stews known as dal. This richly flavored and textured soup is great for using up leftover bits of chard or kale. For extra bite, top the soup with your favorite hot sauce.
Preparation Time: 10 minutes
Cooking Time: 60 minutes
Servings: 4-6
4 cups water
1 onion, cut into 1/2-inch dice
2 cloves garlic, crushed or minced
1 1/2 teaspoons grated fresh ginger
1 teaspoon smoked paprika
½ teaspoon ground cumin
¼ teaspoon ground coriander
Freshly ground black pepper
1 cup red lentils
1 can (15-ounce) garbanzo beans, drained and rinsed
1 can (14.5-ounce) diced tomatoes
2 cups chunked Yukon Gold potatoes
1 tablespoon fresh lemon juice
1 to 2 teaspoons chili paste (Sambal Oelek)
2 cups coarsely chopped fresh chard, kale or spinach
Sea salt, to taste
Place 1/4 cup of the water into a large soup pot. Add the onion and garlic and cook over medium heat, stirring occasionally, until the onion softens, about 5 minutes.
Mix in the ginger, paprika, cumin, coriander and several twists of pepper. Add the lentils, beans, tomatoes, potatoes, and the remaining water. Bring the soup to a boil, then reduce the heat, cover, and simmer until the lentils are tender, about 50 minutes.
Stir in the lemon juice, 1 teaspoon of the chili paste, and your choice of greens. Cook until the greens are tender, 5 to 7 minutes longer. Taste and add more chili paste and a bit of sea salt, if desired.
Serve hot with good no fat added whole grain bread.