Post by gracoman on Feb 2, 2016 19:56:40 GMT -5
Eat your greens!
There are four reasons for changing to a plant based diet.
1. Health.
This forum category will mostly deal with your health. The other reasons are of equal importance but people mostly act for selfish reasons and personal health is the selfish reason. Knowledge is not enough. Action is required. The same is true with all of life. To bad we wait until our health is failing before we realize the error. But all is not lost. Many health issues can be overcome, even reversed. Don't stop here. Do your own research. I'm here to open the door. Walking through is up to you.
"People need to eat whole food plant foods, primarily... whole grains, fruits, vegetables, nuts and seeds. That diet supports our lives. We ought to live to be 90 or 100 without getting any diseases." --John Mackey
2. Planet Earth.
I don't personally believe we have it in our power to destroy the planet. We can certainly destroy ourselves and that is what we are really talking about when issues of environmental impact arise. Earth will shake us off like the disease we are. Disease say you? We are uncontrolled growth. This is the very definition of cancer. The jury is still out on whether or not intelligent life is fit enough to survive. The planet will survive. Life, all of life as we know it may not.
"We could have saved the Earth but we were too damned cheap." — Kurt Vonnegut Jr
3. The future of food production
Meat is a grossly inefficient means of producing calories. The grain we feed to livestock so wealthy countries can eat steak dinners is more than enough, by far, to feed the entire world population. That said, there is only so much arable land to go around and we are losing our topsoil at an alarming rate. Couple this with the worlds growing population and the prospects look grim indeed.
"If we do not voluntarily bring population growth under control in the next one or two decades, the nature will do it for us in the most brutal way, whether we like it or not. "
—Henry W. Kendall
4. Animal cruelty.
Of these 4 reasons, this one, the issue of animal cruelty is the biggest elephant in the room. What we don't know can't hurt us right. I'm about to change that and I'm going to take it easy on you. But if we are to explore the entire subject at hand we cannot leave this one out. To many, this is the most important reason of all and it is the reason we are going to explore now.
Each year, billions of animals are subjected to cruelty on factory farms, feed lots, and slaughterhouses. The brutality that these animals endure would be grounds for felony cruelty charges if inflicted upon our cats and dogs. —Peter Dinklage
The best speech you will ever hear
Health is our main concern here but, as we have seen, there are other reasons to consider a plant based diet. I don't want to lose a single one of you. If you were to just consider a plant based day like the famous Meatless Monday or even a plant based one meal per week it would be a win for yourselves and for everybody. I will continue to post pics with recipes but the no added oils will now be optional. This way the people who might want to give this a try for reasons other than health won't be left out.
Northstar Cafe Veggie Burgers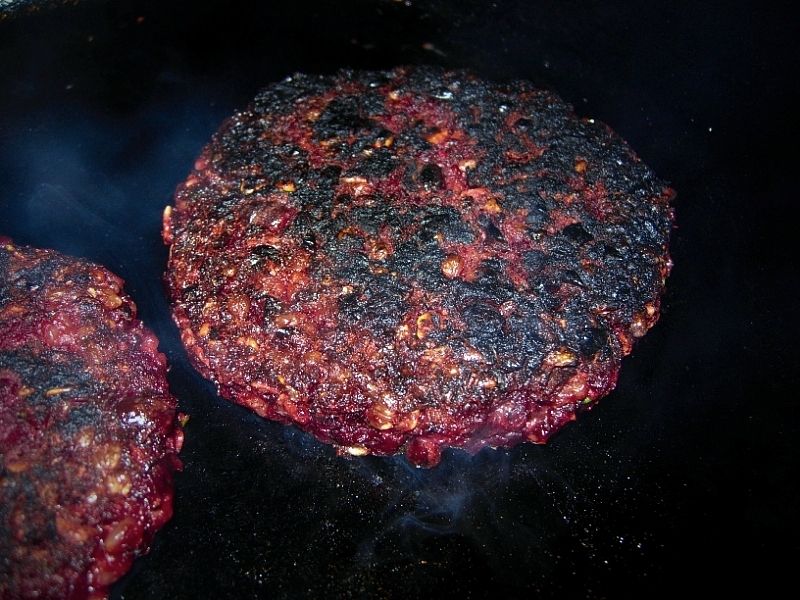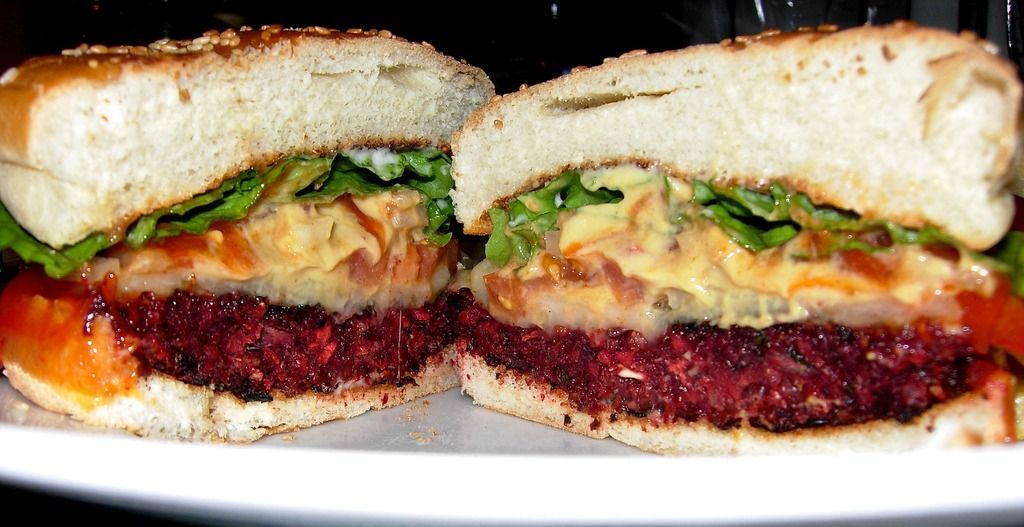 Northstar Cafe Veggie Burgers
Ingredients for 6 burgers
- 1 Cup cooked brown rice
- 1 Med onion diced small
- 3 large red beets diced small (very small dice for the best texture. I use a chopper to make short work of this)
- 4+ cloves garlic, minced (can't have to much garlic)
- 2 T apple cider vinegar
- 1, 15oz can black beans, drained and rinsed
- Juice from 1/2 lemon (about 1 T)
- 1 tsp + 1 T extra virgin olive oil *Optional. It may not seem like a lot but it is 1 tsp more than no tsp.
- 2 T parsley, minced
- 1 tsp Coriander
- 1/4 C prunes, finely chopped
- 1/2 tsp dried thyme
- 1/2 C rolled oats
- 1 - 1.5 tsp chipotle powder or 2-4 canned chipotle peppers in adobo, minced. I prefer 1.5 tsp powder to the canned.
- Cracked black pepper
Preparation
- Heat a tsp of olive oil *Optional in a 12" skillet over med heat . Add onion and cook until soft and translucent. These can be sautéed without oil in a non- stick skillet with water added
as needed.
- Stir in beets, cover skillet and cook, stirring occasionally, until beets are tender.
- Add garlic and cook until fragrant, about 30 sec
- Deglaze pan with the cider vinegar
-Put black beans in a large bowl. Mash them up a bit with a fork.
-Add cooked rice, the oats, the beet and onion mixture, the lemon juice, parsley, T of olive oil, prunes and all the seasonings. Stir to combine. Taste for seasonings.
-Heat a cast iron skillet over med heat. Add enough olive oil to coat the bottom of the pan. When the oil shimmers it is ready. OR fry in a non-stick skillet without added oil. This is a
technique you will quickly get used to. It ain't gonna sizzle but then again neither will your endothelial cells, the cells that line your artery walls.
-Form the mixture into 6 patties. Set into heated pan. If it doesn't sizzle, you are doing it correctly.
-Cook for 2-4 minutes, than flip. If the patty breaks apart a little when flipped, re-shape with spatula. They will hold together once the second side is cooked. If you refrigerate these for
several hours before cooking it will help them hold together.
Build these like any other burger. Lettuce tomato, onion and the best pickle you can find. Mustard and ketchup ain't gonna hurt them any. Sometimes you just gotta have mustard and ketchup. Serve with no oil fries, non-fat vegetarian baked beans, and the best pickle you can find.
Leftover patties will last for a week in the fridge