Post by gracoman on Jan 31, 2016 18:34:54 GMT -5
Eat your greens!
"One of the key things I did to stay on my diet is I never allowed myself to get hungry. As soon as I got hungry, I'd eat healthy foods."
--Stephen Furst
This is as an eat as much as you want diet. That's right. Eat it all. Then go back for more. You are eating nutrient dense foods now, not nutrient bankrupt foods. You will be satisfied. And when you have finished, your kitchen won't be greasy, your pots and pans won't be greasy and won't feel like 40 miles of bad road. Don't let your self get hungry. That's when temptation arrives. Always have food available.
How I began.
I'd get hungry and think of a steak topped caramelized onions, sautéed mushrooms, maybe a seared scallop or two because that would be nice wouldn't it? All of this should be sided buttery potatoes and vegetables swimming in cheese sauce. Wait a minute. My plate doesn't look like that. There are unfamiliar things here cooked with unfamiliar ingredients. What the… and what's with all of those vegetables. And what is all of this green stuff? Really? How am I going to do this? I know, I just won't think about it. This is my life now and I'm just going to have to accept that. Deal with it or deal with the alternative. So I'd better start getting used to it. Other people seem to be pulling it off. Ahhh, I guess its not so bad. Its better than being hungry.
Yes, it's most definitely better than being hungry. What I found was that as soon as the hunger was gone, all of the distress about what I couldn't eat was also gone. It simply did not matter anymore. I wasn't hungry. Don't let yourself get hungry. Keep vegan friendly snacks handy.
Now here's the kicker. Pay close attention because this is important. The part I cannot explain to anyone so they could understand, let alone believe. Your tastes begin to change. No, its much more than that. A reverence for food appears. An honest to goodness respect and thankfulness with each plate of food that sits in front of me. My entire relationship with food began to change. I look at a bowl of rice and vegetables in awe. Its the food of human beings.
Out on the road? Restaurants are another subject but for now I will tell you Subway can make a foot long sandwich stuffed with nothing but vegetables and seasoned with pepper, mustard, and vinegar all in whole wheat bread. That ought to hold you for a while.
I keep transition foods in my freezer for the inevitable times when cooking seems a chore and I just don't want to bother. Some of these are better that others. Some are PDG but they aren't whole foods and one should not rely on them. My junk food is what the rest of society would consider health food.
One unexpected bonus is your food bill will plummet. You will be surprised how much you will save. Costco is your friend with this. After you learn to read ingredient labels you will see just how much of a friend they can be. Watch out. Eggs, milk, salt, sugar, and fat are hidden in everything.
This reading of labels extends to this very forum plant based category. You will notice some of the recipes I post have a small amount of added oil, or perhaps even fried in a bit of oil. Oil is not allowed in the diet of human beings. Oils were not available to people throughout most of the time we have been here. With the exception of olive oil, all oils are produced through chemical extraction techniques. They are human inventions. Olive oil has not been around forever and it certainly was not available to people living where olives did not grow. I allow myself deviations like this on occasion but I don't make a habit of it.
The Pleasure Trap
I've done many juice fasts. Usually 2 to 3 weeks in duration. If there are any questions about this have at it.
Salsa MolcajeteIngredients
Char on the grill or under your kitchen oven broiler
Grind garlic. Remove most of the blistered skins, chop into manageable chunks and grind into a chunky salsa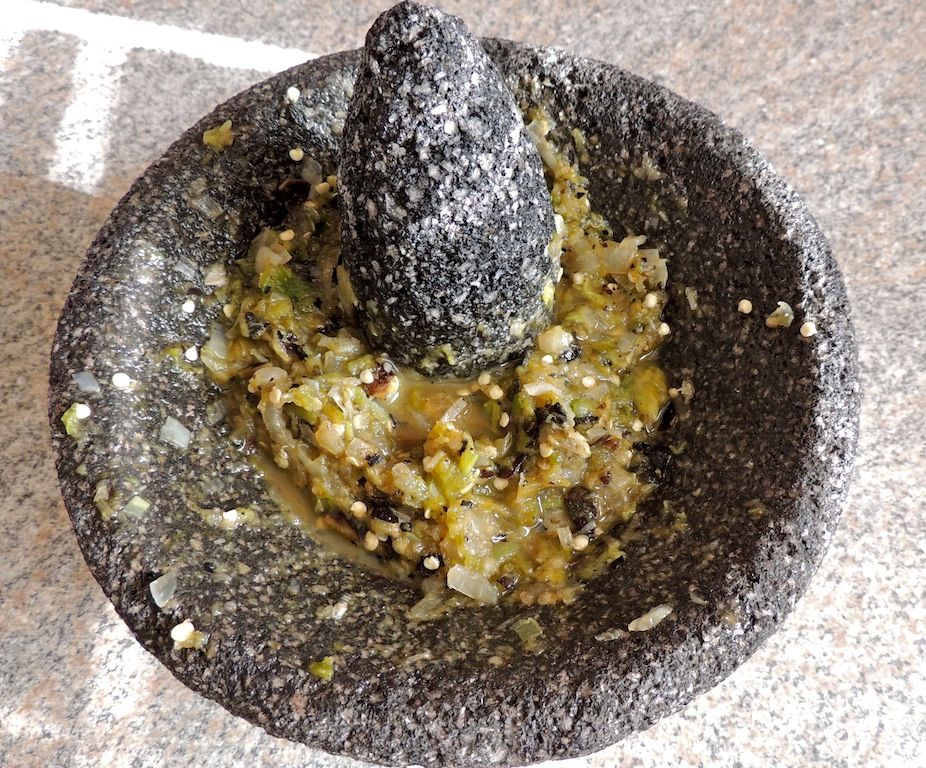 The best tasting and freshest salsa you've ever had