Post by BBQ Butcher on Jun 16, 2007 8:17:56 GMT -5
Pimento Cheese (better than that stuff you buy at the store!!)

Thanks to BobS and Jose at the Addicted to BBQ forum
Mother's Everyday Pimento Cheese
ingredients
1/2 lb extra-sharp Vermont white Cheddar
1/2 lb extra-sharp aged New York (orange) Cheddar
1 (7-oz) jar pimentos, drained and finely chopped
1/2 teaspoon black pepper
cayenne to taste
2/3 cup mayonnaise preparation
Finely grate cheeses into a large bowl. Stir in pimentos, black pepper, cayenne, and salt to taste with a fork. Then stir in mayonnaise, mashing mixture with fork until relatively smooth. (It should be flecked with small pieces of pimento.)
Scrape spread into a crock or jar and chill, covered, at least 2 hours to allow flavors to develop.
If you really want to make this pimento cheese the way my mother does, and you happen to own a hand-crank meat grinder, run the two cheeses once through the fine blade of the grinder into a mixing bowl. Mother simply used to grind the pimentos with the cheeses, but now she prefers to mash them with a heavy fork on a plate until they break up into tiny pieces.
She uses homemade mayonnaise but also endorses Hellmann's (a.k.a. Best Foods).
~~~~~~~~~~~~~~~~~~~~~~~~~~~~~
Foster's Pimento Cheese
1 cup shredded sharp cheddar cheese (4 oz.)
1 1/2 cups shredded Parmesan cheese (6 oz.)
1 cup shredded smoked Gouda cheese (4 oz.)
1 red sweet pepper roasted seeded and chopped
1 green sweet pepper roasted seeded and chopped
1 cup good-quality mayonnaise
1 jalapeno pepper seeded and finely chopped
1 tbs cider vinegar
1 tbs honey
1/4 tsp salt
1 tsp freshly ground black pepper
Cilantro leaves or flat-leaf parsley
Mix together cheeses and roasted peppers in a large bowl. In a medium bowl combine mayonnaise, jalapeno, vinegar, honey, salt, and pepper; stir to blend.
Stir mayonnaise mixture into cheese mixture; mix well. Season with additional salt and pepper, if desired. Refrigerate in an airtight container for up to I week. Garnish with cilantro. Makes about 4 cups.
*********************************
This is recipe #1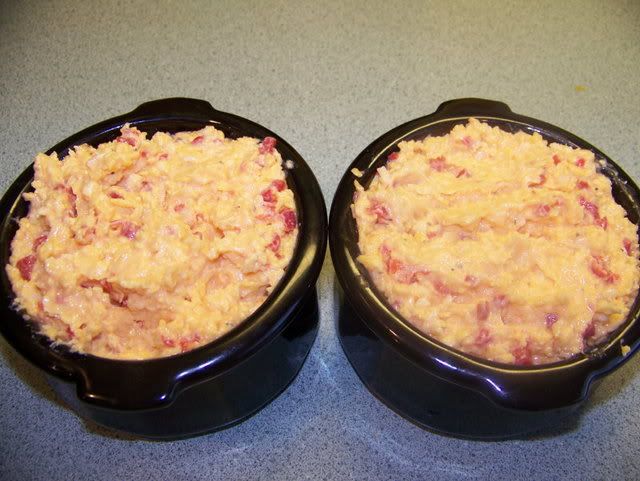 The only tinkering I did was NO cayenne, but did add some smoked paprika. Good stuff, for sure

Next time will add some chopped pickles. Time after that I plan on playing with some Black Mustard BBQ Slather and/or horseradish to the recipe.