Post by gracoman on Dec 4, 2016 10:57:38 GMT -5
The holidays are upon us and prime rib is such a popular holiday choice its time to take a serious look at an experiment I did with Transglutaminase this past January. This is more of a technique than a cooking method. I wanted to know if it really is game changer.
A brief primer.
Is Transglutamiase, more commonly known as Activa or even more commonly as
meat glue
, the horror presented to us by the media or are there real world applications that are not only useful but may actually improve upon a dish.
The altruistic side of this debate concerns easier and more even cooking with reconstructed meats of homogeneous shapes and sizes. There are also clever ways to reconstruct or even create new and exciting dishes. Vegetables and even some grains can be formed into sheets or bricked for inventive platings. Noodles can be formed out of things like peanut butter giving an imaginative twist to Pad Thai.
The unscrupulous opposite side of this coin is comprised of meat marketers gluing parts together and misrepresenting them for what they actually are. An entire roast, or steak can be made out of scraps. Don't forget about fish. There are companies specializing in this and are so good at matching meat fibers not even experts cannot tell the difference. Whether you like it or not, you have probably been eating this stuff for quite some time.
Is transglutaminase safe to eat?
Without going to far into this, the simple answer is yes. The enzyme itself will not harm you. However, the method in which it is applied may. Meats glued together introduce surface bacteria into the center of a reconstructed meat made from smaller scraps or even several large pieces. This bacteria is usually not present in the interior of a piece of meat. This surface bacteria is destroyed during the cooking process due to its contact or close proximity to direct heat. The only way to be sure the newly introduced surface bacteria has been destroyed is to cook the newly formed meat to a minimum internal temperature of 145ºF which is an unlikely scenario.
Now let's throw caution to the wind and build that game changing rib roast
The idea behind this is to remove the bones, open up the rib roast, remove the muscles, cut away all of the unwanted stuff, and glue the new and improved roast back together.
The following is taken from Chef Steps: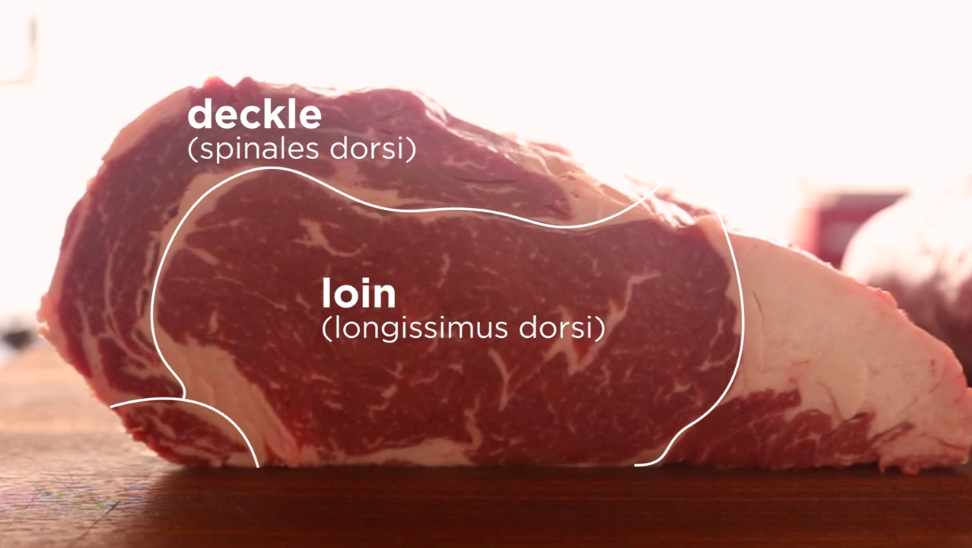 "This is a total game changer. That's because the Reconstructed Roast technique allows you to take the best cuts from the cow—rib eye, chuck, New York—and improve upon them by doing away with all the unwanted bits. We just open that meat up, remove the connective tissue that divides the two primary muscles within the roast (plus any unwanted fat), then put all the good parts back together with Activa. Prepare as normal to create a seamless, evenly textured roast unlike any you've had before."

"Though this technique will work for most steaks and roasts, we like to use it with a beef rib roast. The large, eight-rib region located on the back of the cow, a beef rib roast is comprised of two main muscles that are divided by chewy connective tissue: the loin (the large muscle in the middle), and the deckle (also called the cap; sits on the outside of the roast). Though there are other, smaller muscles, the loin and the deckle are the biggest ones. Using Activa, we can remove the sinew that connects them and re-attach the muscles directly to one another, winding up with a uniformly juicy, flavorful cut of reconstructed steak."
I experimented with an inexpensive 4 pound rib roast I bought on sale and at the lower end of the Choice grade. Unfortunately I was not able to get a lot of pictures because I was dealing with raw meat and Transglutaminase RM which is an extremely fine powder.
I chose to wear a mask for the application. Inhaling this stuff can't be a good thing for a meat puppet like I am. I'm surprised almost none of the information I looked at mentioned this.
My 4 pound rib roast separated and trimmed of all unwanted material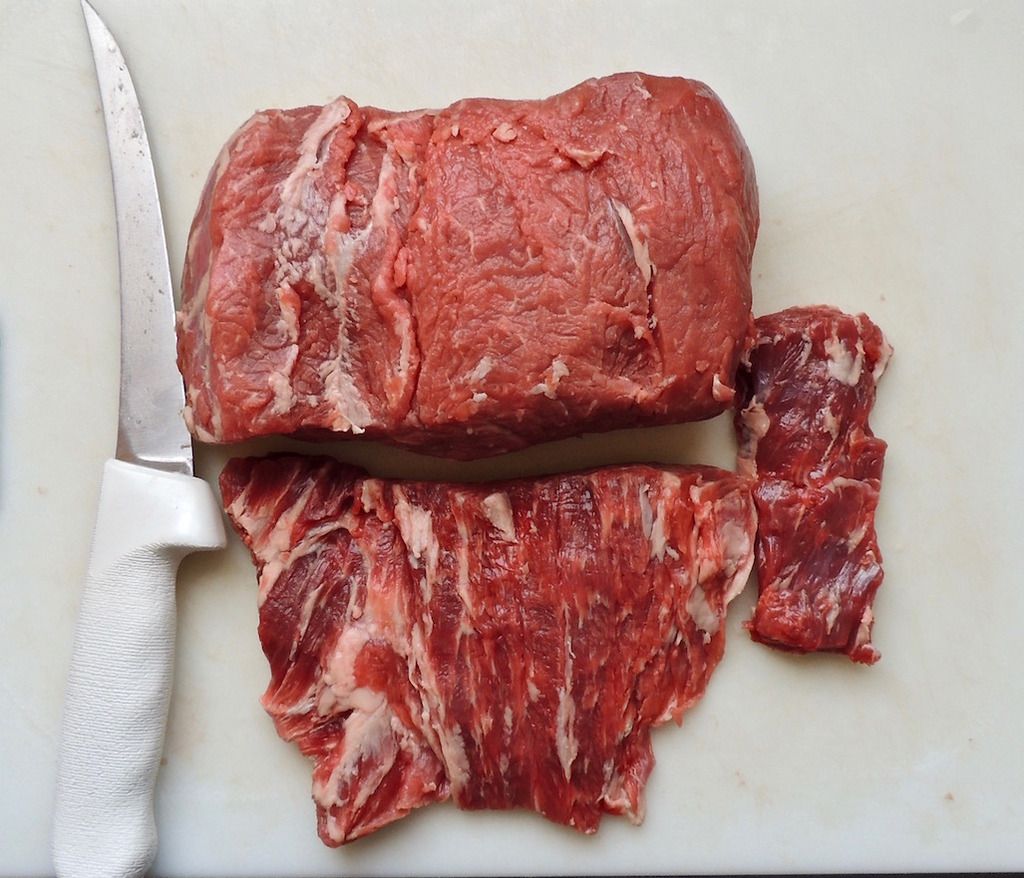 I applied the Activa to all connecting sides, reconstructed the roast, and rolled it tightly in plastic wrap several times after puncturing the plastic with a toothpick to remove any bubbles and allow any trapped air to escape. I then tied the ends with string and vacuum packed the roast for further compression. I put the roast in the fridge vertically for 24 hours to let the enzyme do its work.
My reconstructed roast ready for the smoker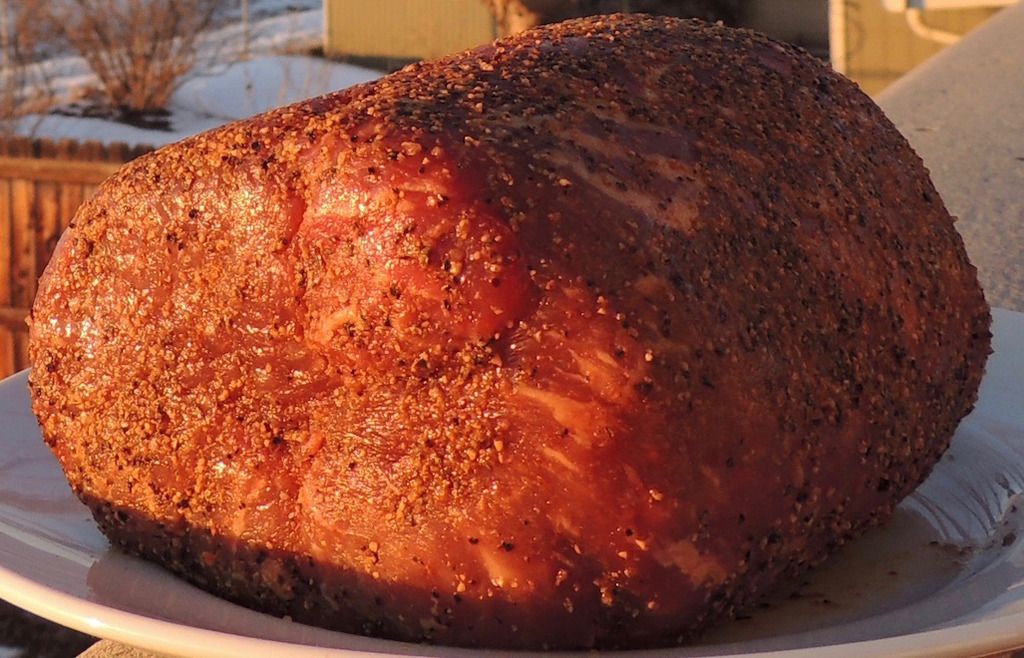 While I knew this particular cut would do better sous vide I slow smoked it over some cherry wood at 210º until it hit an internal temp of 125º then pulled and seared.
I thought I had a pic of the roast in the smoker but I guess this is the best I can do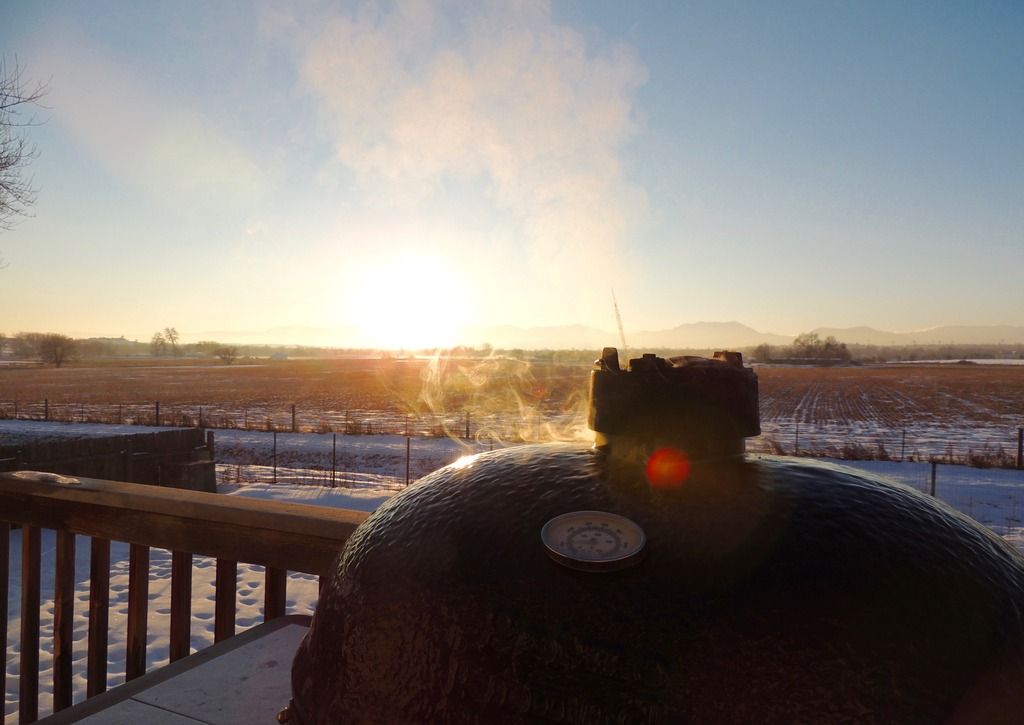 I made a few mistakes that will not happen next time. I need to take more time with matching the muscle fibers up and I should have used 24" plastic wrap and a larger roast. I had a bit of a time trying to roll such a small roast with small plastic. It needs to be tighter. I also need to pick up a duster for sprinkling the transglutaminase. I used a fine mesh strainer and the stuff just blew right through it. Glad I had my mask on.
Smoked reconstructed rib roast with a bit of a smoke ring.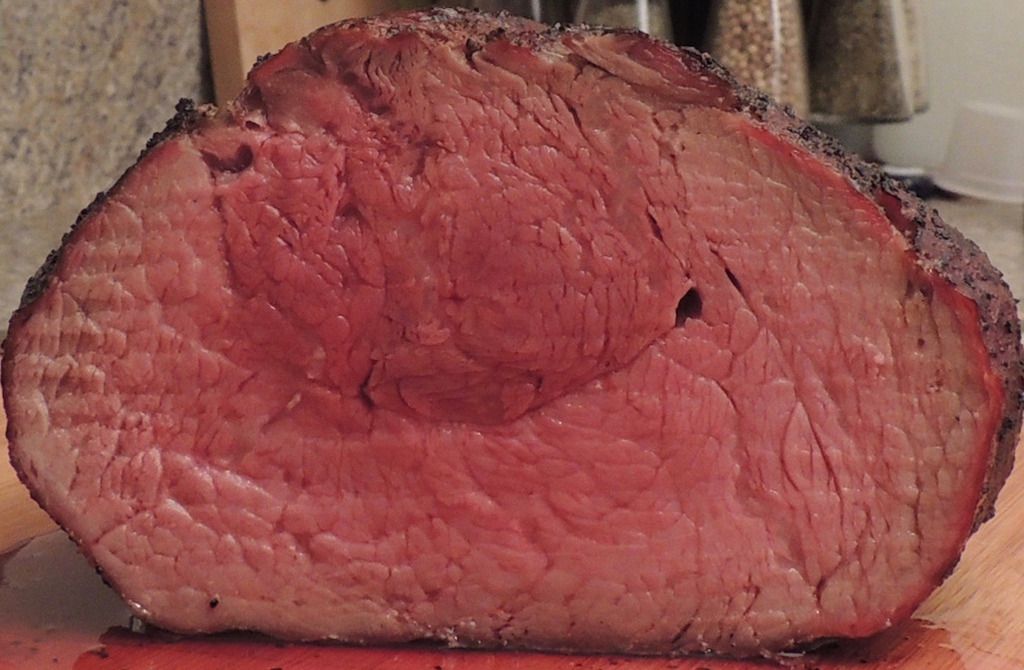 Plated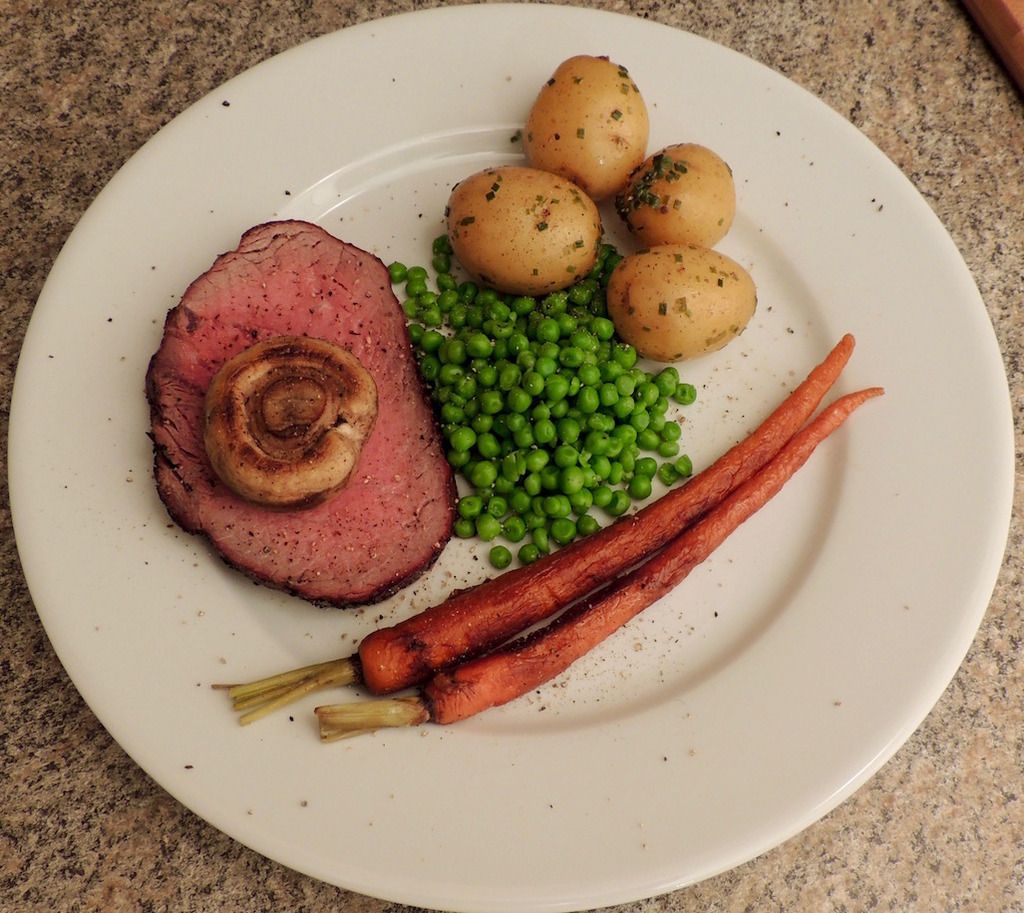 I'm calling this experiment a complete success. I didn't mess up an expensive piece of meat and learned quite a bit in the process. One of the things I learned is.. yes… this technique is a total game changer and I would not hesitate to use it on a large and expensive prime rib roast. The plated meat is 100% awesome. Holiday guests will not have to fool with cutting away any unwanted parts because there aren't any. Imagine this sliced for sandwiches.
Yeah, sandwiches are fantastic!