Post by gracoman on Feb 24, 2016 18:46:53 GMT -5
We continue with the scientific exploration of the plant based diet with the role of nitric oxide and endothelial cells.
Eat your greens!!!
Why am I always harping on this? It is because of the groundbreaking work done by Caldwell B. Esselstyn, Jr., M.D.
As always, do your own research, but for now allow me to oversimplify.
All of our blood vessels have a single protective layer of endothelial cells that manufacture the gas nitric oxide. Nitric oxide gas "keeps our blood flowing smoothly, it is the strongest dilator (widener), of our blood vessels, it inhibits the formation of blockages (plaques), and t inhibits inflammation. Every western meal of processed vegetable oils, dairy products, and meat (including chicken and fish) injures these endothelial cells. As individuals consume theses damaging products throughout their lives, they have fewer functioning endothelial cells remaining and thus less of the protective nitric oxide. Without enough nitric oxide the plaque blockages build up and grow creating eventually heart disease and strokes."
The act of chewing dark leafy greens releases chemicals that are adsorbed through the tongue and changed into nitric oxide gas which enters the blood stream and baths the blood vessels with this protective gas. When reversing coronary heart disease one should eat greens all day long to provide the protective benefits of nitric oxide gas. Endothelial cells will regenerate if given the chance.
Nitric Oxide.
2 minutes
Happy healthy long lifeDr EsselstynLentil Soup with Potato, Carrot, Onion, Tomato, Broccoli (lighly dusted with dried mustard), Balsamic Glaze, and Common Crackers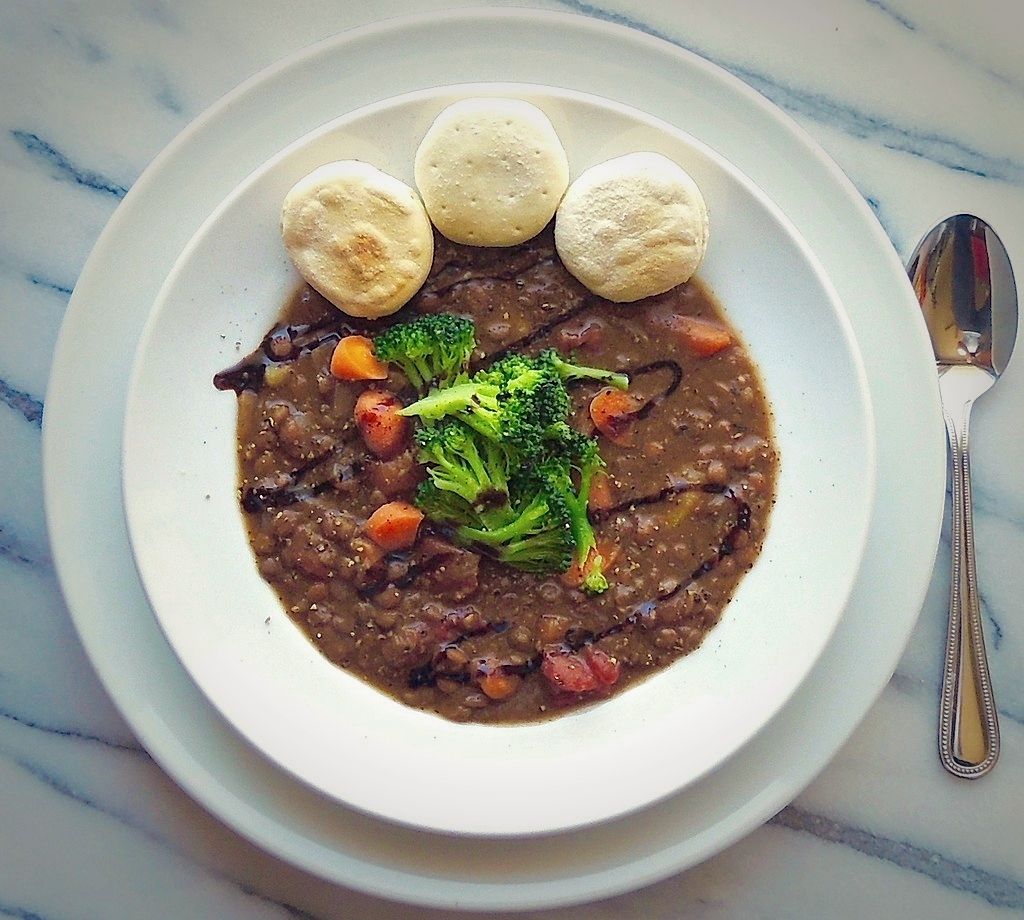 Lentil Soup
Basic recipe from the original Moosewood Cookbook
Ingredients:
3 cups raw lentils (rinsed)
7 cups water or stock (I use low sodium vegetable stock)
2 tsp salt (I do not add salt)
2 tsp minced garlic (I use significantly more)
1 cup chopped onion
1 cup minced celery
1 cup chopped carrot
*2 cups chunked gold potato
*½ pound fresh spinach leaves
1.5 cups chopped tomato
Lots of black pepper
2 T dry red wine
2 T lemon juice
1 T molasses
1T wine vinegar (I use more)
Optional herbs such as thyme or oregano or basil (I use thyme)
Optional scallions for garnish
Directions:
Simmer rinsed lentils and water or stock for 3-4 hrs
Steam or saute in butter the garlic, chopped onion, minced celery, chopped carrots, chunked potato, and add to lentils after thy have simmered for 4 hrs.
Continue to simmer (low heat) until potatoes are tender. Longer if you like.
*I just throw the above into the simmered lentils without streaming or sautéing
About 30 minutes before serving add lots of black pepper, the chopped tomatoes, wine, lemon juice, molasses, vinegar, and herb(s) if using.
Sprinkle extra vinegar and freshly chopped scallions onto each serving.
*Good no added fat bread or fat free, salt free crackers
*My additions
**This recipe adapts well to a slow cooker