Post by gracoman on Feb 19, 2016 16:00:09 GMT -5
We will continue with the scientific exploration of a plant based diet by looking at the Paleo Diet.

"The very fact that we are having a national conversation about what we should eat, that we are struggling with the question about what the best diet is, is symptomatic of how far we have strayed from the natural conditions that gave rise to our species, from the simple act of eating real, whole, fresh food."
—Mark Hyman
What is a Paleo diet and how can we eat like our ancestors? Simply put it is impossible to eat like Paleo people. Each nomadic group (pre agriculture remember) would wander with the seasons eating wild plant food quite different than the plant foods we eat today which are mostly human inventions. Each group would eat what was available where they were so Paleo people in northern climates had a diet quite different than the nomads living at the equator. When they did eat meat it was wild, extremely lean, unadulterated by hormones and antibiotics, and lived on its natural diet. I suppose one could say grass fed but that would be rather simplistic. The idea of a single unified Paleo Diet is preposterous.
Today's Paleo diet fad is nothing more than a repackaged low carb diet which is a far cry which from the optimal diet of human beings. I could post link after link from different science based sources but the Primitive Nutrition Series at Plant positive has most if it all in one place.
The Primitive Nutrition Series at Plant Positive
Braised Coconut Spinach & Chickpeas with Lemon. One of my favorites.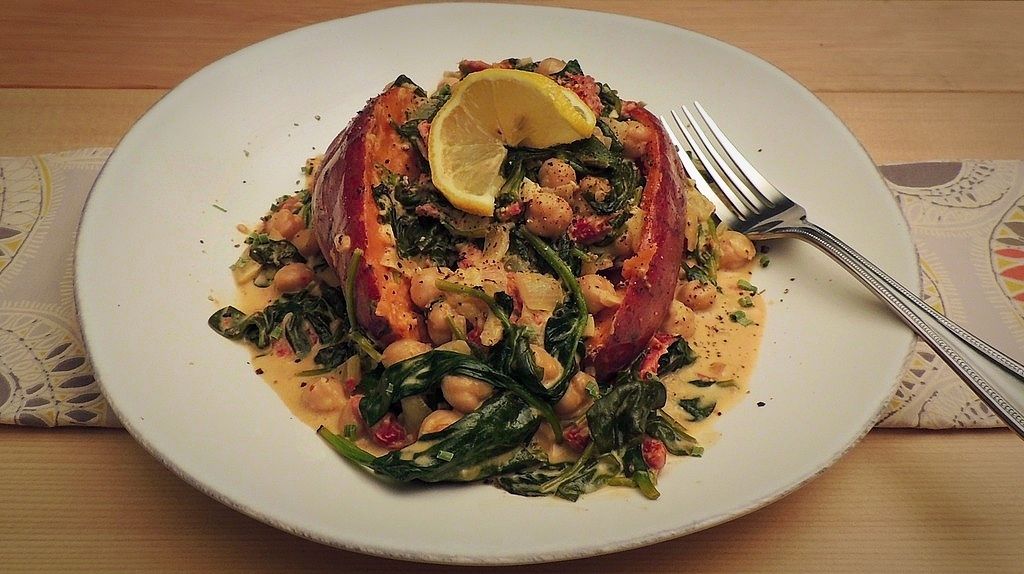 Braised Coconut Spinach & Chickpeas with Lemon
Recipe from the kitchn
Serves 4 as a main dish or 6 as a side
Ingredients:
2 teaspoons oil or ghee. (I use olive oil or Earth Balance or fry in water)

1 small yellow onion
4 large cloves garlic, peeled and minced - (Can't have to much garlic)

1 tablespoon grated ginger, from a 3-inch piece

1/2 cup sun-dried tomatoes, chopped - (I use julienne not packed in oil and don't bother chopping)

1 large lemon, zested and juiced (about 2 tablespoons juice)

1 dried hot red pepper or dash of red pepper flakes (optional)

1 (15-ounce) can chickpeas, drained and rinsed

1 pound baby spinach

1 (14-ounce) can coconut milk- Low fat please

1 teaspoon salt, or to taste - (don't need it)

1 teaspoon ground ginger
To serve:

Whole roasted sweet potatoes (microwaved in a pinch)

Cilantro leaves, to garnish

Toasted unsweetened coconut, to garnish
Instructions:
Heat the oil or ghee in a large, deep Dutch oven or heavy pot over medium-high heat. Add the onion and cook for about 5 minutes, or until the onion is beginning to brown (or fry in water). Add the garlic, ginger, sun-dried tomatoes, lemon zest, and red pepper, if using. Cook for 3 minutes, stirring frequently.
Add the chickpeas and cook over high heat for a few minutes, or until the chickpeas are beginning to turn golden and they are coated with the onion and garlic mixture.
Toss in the spinach, one handful at a time. This will take about 5 minutes; stir in a handful or two and wait for it to wilt down and make room in the pot before adding the next handful. When all the spinach has been added, pour in the coconut milk, salt, ground ginger, and lemon juice. Bring to a simmer, then turn down the heat and cook for 10 minutes, or until the chickpeas are warmed through. Taste and add more salt and lemon juice, if necessary.
Serve hot over roasted sweet potatoes, with cilantro leaves and toasted unsweetened coconut to garnish.
Recipe Note
•This is thick enough to eat on its own with a fork, but it's also saucy enough to serve over pasta, rice, quinoa, or another grain.
•Freezing instructions: Freeze in individual portions for up to 3 months. Allow it to thaw overnight in the fridge and then reheat gently over low heat on the stove.