Post by gracoman on Jan 28, 2016 13:49:44 GMT -5
A scientific exploration of the plant based diet rational continues with a discussion of "What is the diet of human beings?"
Dogs have a diet. You wouldn't feed them onions or grapes. They would get sick.
Cats have a diet. You wouldn't feed them garlic and tomatoes. They would get sick
Human beings have a diet. If you deviate from it, you will get sick.
"Look at the average American diet: ice cream, butter, cheese, whole milk, all this fat. People don't realize how much of this stuff you get by the end of the day. High blood pressure is from all this high-fat eating."
Jack LaLanne
Eat your greens!
The food we were born to eat
Mixed Veggie and Tofu Chilaquiles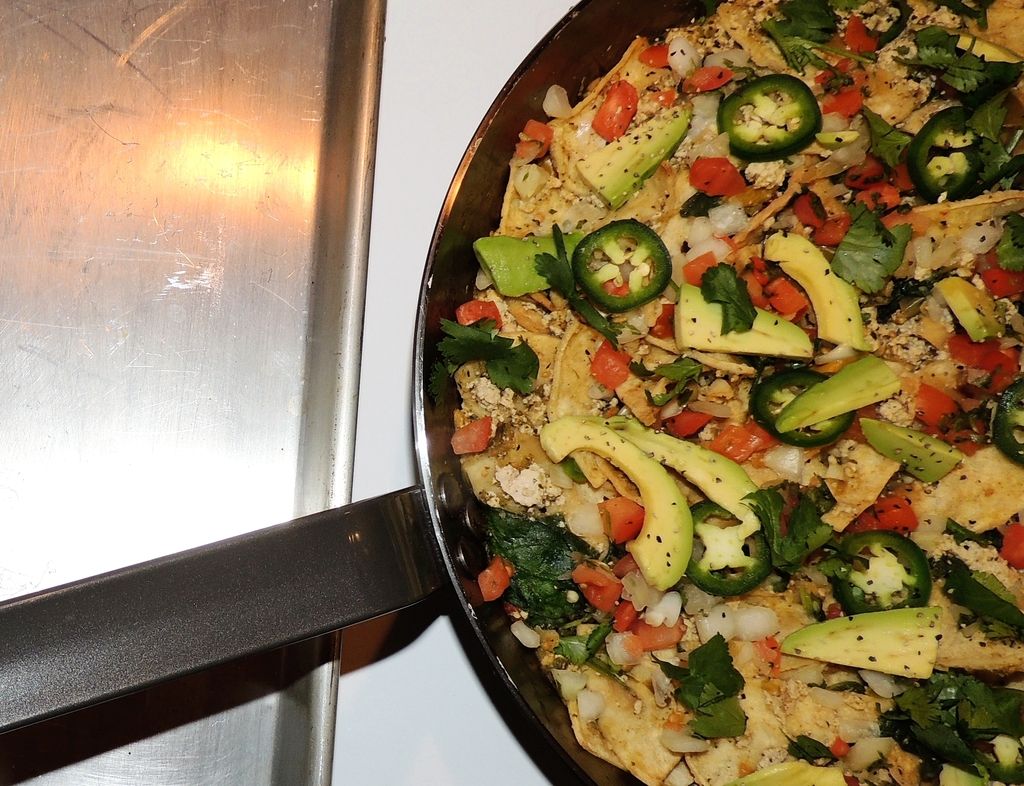 Mixed Veggie and Tofu Chilaquiles
Recipe from Thug Kitchen
Ingredients:
12 Corn Tortillas
2 tsp olive oil
1 block medium firm tofu
2 tsp soy sauce or tamari
1 tsp garlic powder
¼ cup nutritional yeast. Fresh is a different animal. Get it in the bulk food section of your health food store.
½ medium onion, chopped
1 red, orange, or green bell pepper, chopped
1 to 2 Jalapeños, chopped
2 cloves garlic minced. I use more. Can't have to much garlic.
2 to 3 cups fresh spinach
2 ½ cups salsa verde*
¼ C vegetable broth or water
Toppings: avocado, cilantro, sliced jalapeños, pico de gallo
Instructions
Pre heat oven to 400ºF.
Cut tortillas into 8 wedges. Spread on a baking sheet and place in oven for 15 to 20 minutes to dry out. Stir half way through. Its fine if they start to get hard but don't let them burn.
While tortillas are in the oven, heat 1 tsp of the oil in a large skillet and crumble in the tofu. Stir in soy sauce and garlic powder. Let it all cook together until some of the water cooks off. About 2 minutes. Stir in the nutritional yeast. Turn off the heat, pour the tofu mixture into a bowl, and wipe out the skillet.
Heat the second tsp oil in the same skillet over medium heat. Add onion, bell pepper, and jalapeños and saute until the onion begins to brown. 3 - 5 minutes. Add minced garlic and spinach and cook 30 seconds more.
Place ½ of the baked corn tortillas in the skillet with the veggie mix. Add 1 cup salsa verde, 2 T of the broth and stir together. Add ½ of the tofu mix over the whole skillet. Layer on the rest of the tortillas and top with the rest of the tofu mix, salsa, and broth. Gently stir to make sure all layers are coated. Simmer together for 5 minutes to soften the tortillas and evaporate the liquid.
Serve immediately for breakfast, lunch, or dinner topped with avocado slices, cilantro, sliced jalapeños, and pico de gallo.
*Salsa Verde
Use a commercially prepared salsa if you like. Just check the ingredient list. No Pork or added fat, sugar, or salt please.
Ingredients:
1 ½ las tomatillos
2 jalapeños
½ white onion, chopped
2 cloves garlic, minced
¼ C chopped cilantro
1 T lime juice
1/8 tsp salt - optional
Instructions:
Pre heat broiler in oven
Tear off papery skin from tomatillos and wash away residue. Place tomatillos and jalapeños with sides and place under broiler.
Roast until tomatillos begin to blacken on top and the peppers are slightly charred. 10-15 minutes. Flip half way through roasting so the cook evenly on all sides.
Remove from oven and let cool. Roughly chop. Leave seeds for a spicier salsa.
Combine jalapeños, tomatillos, onion, garlic, cilantro, lime juice, and salt (if using) in a food processor and process to a slightly chunky consistency. About 30 seconds.
Serve warm, at room temp, or cold