Post by BBQ Butcher on Mar 30, 2008 6:57:38 GMT -5
12/08/07
The BBQ Butcher #19
E.coli poisoning has been in the news again the past few weeks. Other than the safeguards that I previously mentioned, I suggest grinding your hamburger at home.
That is the only way to know what is in your hamburger.
I think the best meat for burgers come from the Beef Chuck, followed by the Beef Round. Both are tasty, the Round being leaner than the Chuck. Buy Boneless Chuck Roasts, Boneless Underblade Roasts, etc and Boneless Beef Chuck Shoulder Clod. The Brisket Point will make one of the best burgers you've ever had. If you opt for the leaner, buy Top Round, Eye Round or Bottom Round Roasts. Occasionally you will find whole Sirloin Tips on sale and these make good burger, also, but extra fat may have to be added.
Ground Sirloin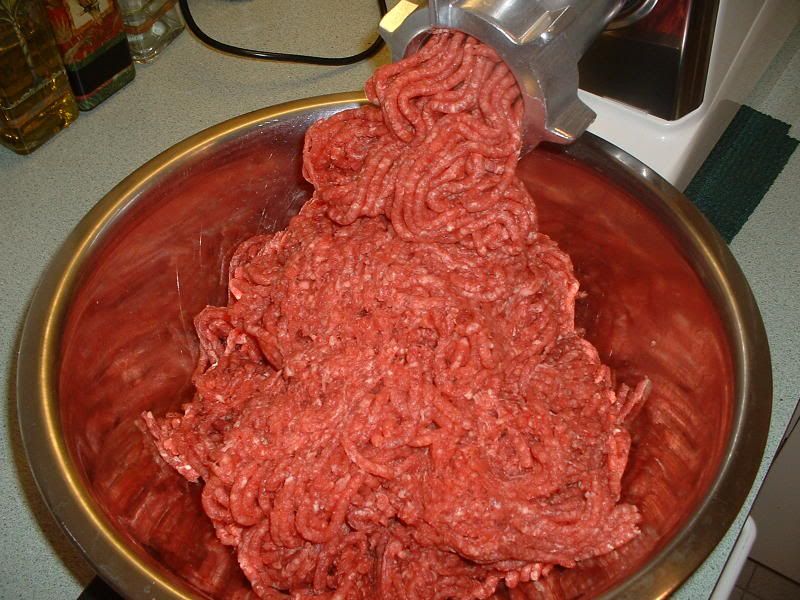 Cut the meat into one, or two inch, chunks for easier grinding. You will not need to remove any of the excess fat, unless it looks like an excessive amount. Eye ball* it before cutting and think in your mind that the total fat needs to be some where in the 10 to 15% range (more or less depending on your preferences). Make sure the meat is COLD while grinding. Partial freezing won't hurt. I would try running the meat thru the medium plate first, you might be surprised. Grind twice for the best results. If need be, use the coarse plate first and then switch to the medium or fine to finish.
* "Eye balling" it takes years of experience, so if you don't think you are up it, just trim all exterior fat from the meat and then weigh the lean to the fat for the correct ratio. For example: if you have 5 pounds of lean meat, add ¾ pound of fat back for 85/15 Ground Chuck (best for burgers on the grill) or 1 pound fat for a 80/20 mix. Keep in mind that if the meat is marbled well (a good USDA Choice or Prime), you can figure almost 5% fat is already there, so cut back on the fat addition.
Also, if you happen to cut your own steaks at home for the NY Loin Strip or the Rib Eye, save your clean fat trimmings in 1 pound bags for the freezer. It will come in handy one day.
Ground Chuck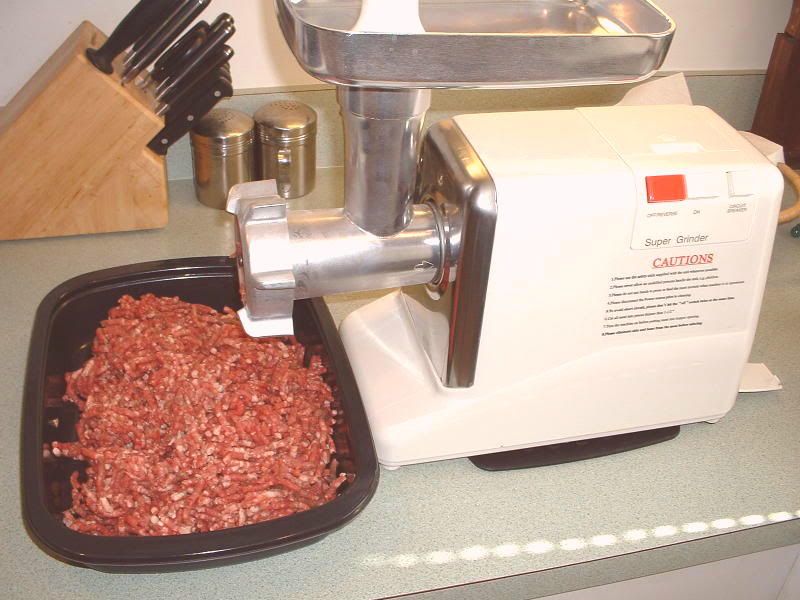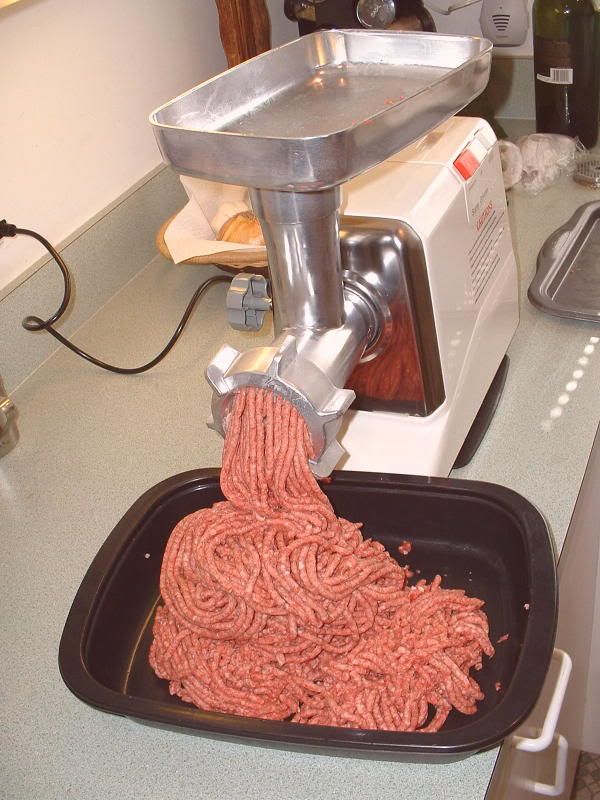 1) If you have the time and the room.....place the head of the grinder/attachment in the fridge for at least 30 minutes prior to grinding meat. I store it in the extra refrigerator in my garage, so it's always cold. The cold also helps in the formation of bacteria.
2) Place the trimmed meat chunks in a bowl or on a cookie sheet in the freezer for approx 20-30 minutes before grinding.
Both of the above ease the procedure of grinding the meat.
3) If you are using the Brisket Point, remove all the external fat. There should be enough marbling in the interior to give you a good 80/20 or an 85/15 Ground Chuck. If it looks too lean, you can always add some extra fat from the trimmings.
4) After the first grind, the meat is going to look fatty. This is normal. Gently toss by hand a few times to mix and run through the grinder the second time, it will look better.
5) Put the ground meat back into the fridge while you clean the grinder. Keeping it cold makes it easier to work with.
Bacon makes a good additive for extra fat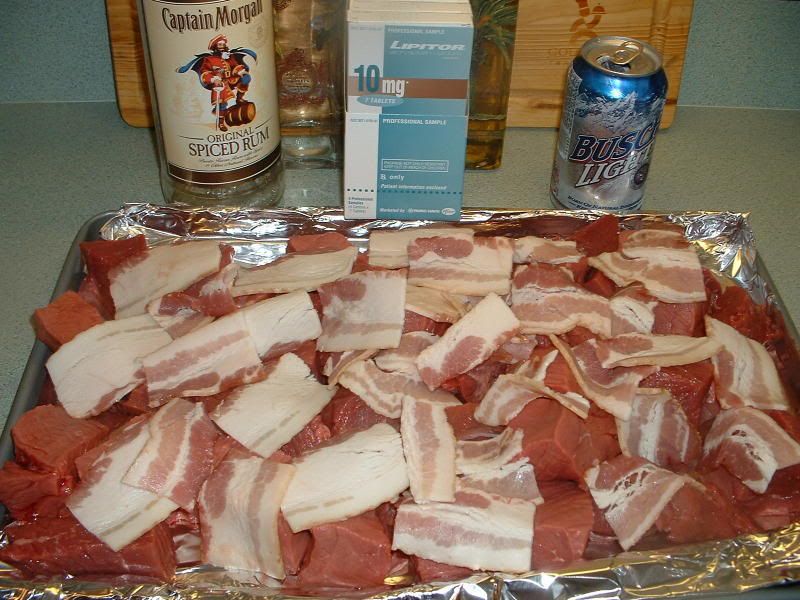 As far as value, that would be entirely up to you. If you can find any meat around $2.00 a pound these days, that's a good buy! Check with your butcher or Sam's/Costco/BJ's, etc for a price on whole primal cuts, such as Boneless Chuck, Shoulder Clods, Gooseneck (Bottom) Rounds, Peeled Top Rounds or Sirloin Tips. I would avoid buying "marked down or reduced" steaks or roasts for grinding UNLESS you are going to use the burger that day. It's already got an 'age' on it and defrosting it will add some more time to it.
Finding a home grinder is easier than you think. If you have a Kitchen Aid in your cupboard, they do make a grinder attachment that you can order from the home office or some of the better home stores will have them in stock. You can also find a grinder at Lowe's, Bass Pro Shops, Cabela's and, as I mentioned above, your home or restaurant supply stores.
My personal favorite is from the Northern Tools and Equipment store.
Home Meat Grinder
Everyone I've recommended this grinder to has liked it and the price of $99 is not too shabby and this week it happens to be on sale for only $89!! It's relatively small and can be stored in the pantry with no problem. I like it because it's a workhorse and can be cleaned easily as well. Once you get the hang of making your own hamburger, you can take advantage of the sausage stuffing attachments that come with the grinder, too.
Home Sausage Making
~~~~~~~~~~~~~~~~~~~~~~~~~~~~~~~~~~~~~~~~~~~~~~~~~~~~~~~~~~~~~
"Last year I invested in a half of a cow with my family and was fairly pleased with it and have decided to do the same this year.  On the last cow I got really good ribeye steaks, t-bones, a couple good flat bone sirloin steaks and some nice roasts and a lot of ground beef.  However I didn't get any tenderloin steaks (which I was really hoping for) but a lot of soup bones.  With that said I want to go with more steaks this time around and was hoping to get some recommendations on cuts I should ask for.  Here are a few I know I'm going to ask for:
Tenderloin Steaks, Rib Eye Steaks, T-bones, Boneless Sirloin, Top Round Steak and Flank Steak.
Are there any other cuts that produce nice steaks that I'm leaving out?  Also, would back ribs be possible with what I'm want to get?  And last question; is there a general thickness you would recommend?"
The reason you didn't get any Tenderloin Steaks is because you ordered Porter Houses, T-Bones and Flat Bone Sirloins. The Tenderloin is the bottom part of those steaks.
If you want Tenderloins this year, tell the butcher you want boneless New York Strip Steaks (Top Loin), Boneless Sirloin and Tenderloin Steaks.
You could always ask to have the Bottom Round cut into steaks for cubing or for Swiss Style Steak.
Also, there is a Flat Iron Steak that can be cut out of the Shoulder. Just ask for them or the "Boneless Beef Chuck Top Blade Roasts" see link below
Flat Iron Steaks
As far as the thickness on your grilling type steak, I wouldn't go any less than 1".
Yes, you can get one set of Back Ribs, but the whole Rib will have to be boned. Just tell the butcher to take them off the Rib before cutting into steaks or roasts.